Thursday, July 31, 2014 at 2:15PM





Fridays and Saturdays at 7 PM. Sundays at 6 PM.

Thank you once again to Ronni Lacroute and WillaKenzie Estate for sponsoring Willamette Shakespeare.

In This Issue

Love's Labour's Lost Opening at Stoller Family Estate
Call for Volunteers
2016 Dates and Locations


No matter how many times you go through the process of putting up a show, opening night is thrilling. For the first time, you see how the audience is going to react to each moment. You find that jokes you always thought were hilarious only get the slightest audience reaction, and moments you never considered amusing cause a roar of laughter. You discover the moments of poignancy you had previously missed and find that the play flows in a completely different way than you predicted it would. In short, with the help of an audience, you really start to understand the unqiue production you have created, even if you have produced or acted in the play before.

I hope you will join us this year for Love's Labour's Lost and discover the play with us.

---

Call for Volunteers


We could use your help at the shows ushering and greeting audience members.

If you can't spare the time, but would like to make a contribution, your donation can be used as a deduction on your 2016 taxes. As always, contributions can be matched with the Oregon Cultural Trust for an additional tax credit

Willamette Shakespeare is a 501(c)(3) public charity, so all contributions are tax-deductible to the extent allowed by law.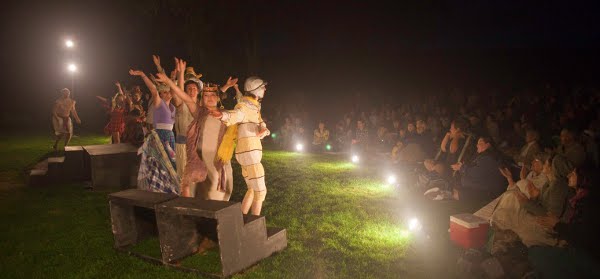 The cast of the 2012 production of
A Midsummer Night's Dream
at Stoller Family Estate.